Affluent's Channel Manager is where you can view, create, edit, or delete channels. This article includes information on:
Channel management is available on the Business and Enterprise subscriptions. If you would like access to channel management, click on Subscriptions and upgrade to Business.
What is a channel?
A channel is a source through which you promote affiliate links and earn affiliate commissions, it may be an app, website, email list, podcast, social media, or something else.
Why use channels?
Setting up channels in Affluent allows you to see your data (commissions, clicks, etc) attributed to their source.
If you only run one website, it's most likely that you only have a single channel.
If you run two websites, then you have two channels. If you run two websites and a separate email list, then you have three channels, and so forth.
Whether or not it's important to you to see the data split out by channel is entirely up to you and how you like to see your data. Setting up channels gives you the ability to split out data, you can still always see your data aggregated.
Creating a new channel
If you haven't created a channel before, you'll be prompted to create your first channel, otherwise, click the + Create New Channel button

.
Enter the channel name - the name under which Affluent will display this channel's data
Website - the URL attached to the channel
Channel type - app, website, email list, podcast, social media, or other
Categories - you can select up to three categories that describe your channel
Once you've created a channel you can start defining the rules for the channel. After you create the channel the "Channel Rule Management" window will automatically open.
Editing channel details
After a channel has been created, to edit the details i.e. name, website, type, or categories, click on the pencil icon. After you've made your changes, select the checkmark button to confirm.

Uncategorized Platform Channels
Some platforms have channel data already included e.g. Pepperjam, AvantLink and Wix. These pre-set platform channels will be listed in the "Uncategorized Platform Channels" table in the Channel Manager.
Pre-set platform channels can be assigned to channels by clicking on the "Add to Channel" button in the actions column. You can choose to add to a new or an existing channel.
If you select "Add to New Channel" the Create New Channel window will open.
If you select "Add to Existing Channel" the add to an existing channel window will open. Select the relevant channel from the dropdown list and click Add to Channel.

Channel rules management
In order for Affluent to display the correct data in the relevant channels, you'll need to set up channel rules. When you initially set up a channel it won't have any rules set. To start setting up your rules, click on the "No Rules Set" link or the "Customize Rules" cog under actions.
If a channel already has rules set up, you can edit them by clicking on the "Customize Rules" cog, under actions.
The channel rule management window will show all of the accounts you have connected. If you have multiple accounts for a single platform, they will display separately.
How can channels rules be defined?
Affluent allows you to set up channel rules based on:
A channel may have multiple rules, one for each account you have connected in the Platform Manager. Each account can only have one rule. An account may have an account rule, a platform channel rule or an advertiser rule. For example, a channel cannot have an account rule and an advertiser rule for the same account, as it would create a conflict in the rules.
Account
When you connect a platform in Affluent, that is an account. You can connect multiple accounts for a single platform.
For example, you might use AWIN - Account 1 for website www.whataboutwallabies.io and AWIN - Account 2 for website www.crazyforkangaroos.com. In Affluent, you'd set up a channel for www.crazyforkangaroos.com and select AWIN - 2, so that all data from the AWIN - 2 account is attributed to the www.crazyforkangaroos.com channel.

Defining rules at the account level only works if you promote one channel with that account. If you promote multiple channels with the same account, you'll need to set channel rules based on platform channels or advertisers.
Not all platforms provide platform channel or advertiser information, for those platforms, channel rules have to be defined by accounts.
Platform Channel
Platform channels are different from channels that you create in the Affluent channel manager.
Platform channels are predefined by the platform. For example, when you set up an AWIN, NetAffiliation, or AvantLink accounts they will ask you to set up your channels. Platform channels cannot be created in Affluent.
Platform channels, where they exist, are automatically pulled in to Affluent. When you add a rule to a channel, if there are predefined platform channels, you'll be able to select which you want to assign to channel.
For example, if you want to assign a platform channel to an Affluent channel, select the account and check the relevant platform channel and apply the rule. This will show all the data associated with the www.crazyforkangaroos.com platform channel in Pepperjam with the channel you've set up in Affluent.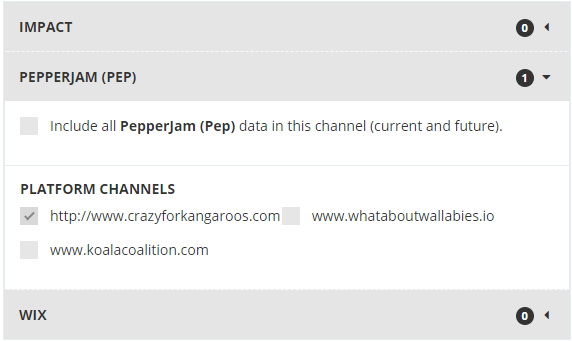 All platform channels will be automatically displayed in the channel manager in the "Uncategorized Platform Channels" table until you set up rules for them.
Advertiser
Advertisers (also known as brands or merchants). These are the companies for whom you are promoting affiliate programs.
Channel rules can be set up on a per advertiser basis. If you promote multiple advertisers through one account, you can set up rules to split out the data by advertisers.
For example, if you use a single Wix account to promote three advertisers for three different channels, you can select just one and set a rule for the channel.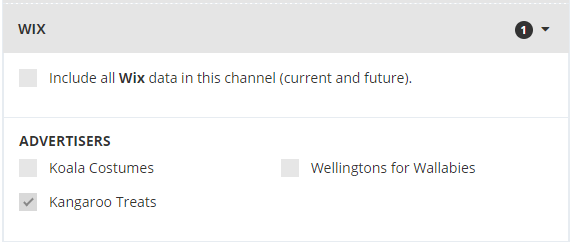 Setting Rules (...rules for your rules)
A channel may have multiple rules, for example, the Crazy For Kangaroos channel has three rules:
All of the date for the account "AWIN - 2"
Just the data from the "www.crazyforkangaroos.com" platform channel in Pepperjam
Only the "Kangaroo Treats" advertiser in the Wix account.
If you set a platform channel or advertiser level rules, you can apply multiple rules per account. For example, this Impact account has two rules, one for the advertiser Kangaroo Treats and another for Jammies for Joeys. The number of rules (2) is displayed next to the account name.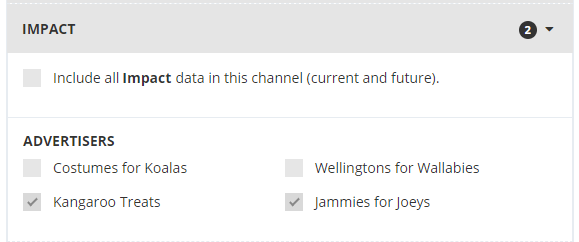 Whilst a channel can have multiple rules, a single account can only have one type (i.e. account, platform channel or advertiser) of rule. For example, Wix has an advertiser rule, therefore, it cannot also have an account level rule as well - one would cancel out the other.
Accounts, platform channels, or advertisers that have been assigned to another channel cannot be selected. Each account, platform channel or advertiser can only be assigned to a single channel, to prevent the double counting of data.
Accounts that have already been assigned to another channel won't be available to select. If you hover over the advertiser or platform channel, it will show the channel they are assigned to.

Editing channel rules
To edit channel rules, click the "Customize Rules" cog in the actions column, or click on the count in the rules column. This will open the channel rule management window. Here you can edit, add or remove rules.
Deleting a channel
To delete a channel select the delete icon in the actions column of the channels table. You will receive a warning before the channel is deleted. Once a channel has been deleted it cannot be restored. After a channel has been deleted it will no longer appear in Affluent.
If you delete a channel that you want to see, you'll need to create a new channel and recreate the channel rules.
Viewing channel data in Affluent
Overview
Once channels have been created and rules have been set up, you'll be able to see data broken down by channel in the overview section and create reports using the channel category or filter.

Reports
Channels can also be viewed in reports. Choose the category "Channel" and select the relevant metrics. Channel can also be used as a filter. Select a channel filter to show only data coming from a specific channel in your report.