User Management is where Admin users can edit who has access to the platform and what they can see.
How to access user management
To access User Management, click the user button in the top right-hand corner and select "Settings." In settings click "User Management" from here you can add new users, edit privileges, and delete accounts.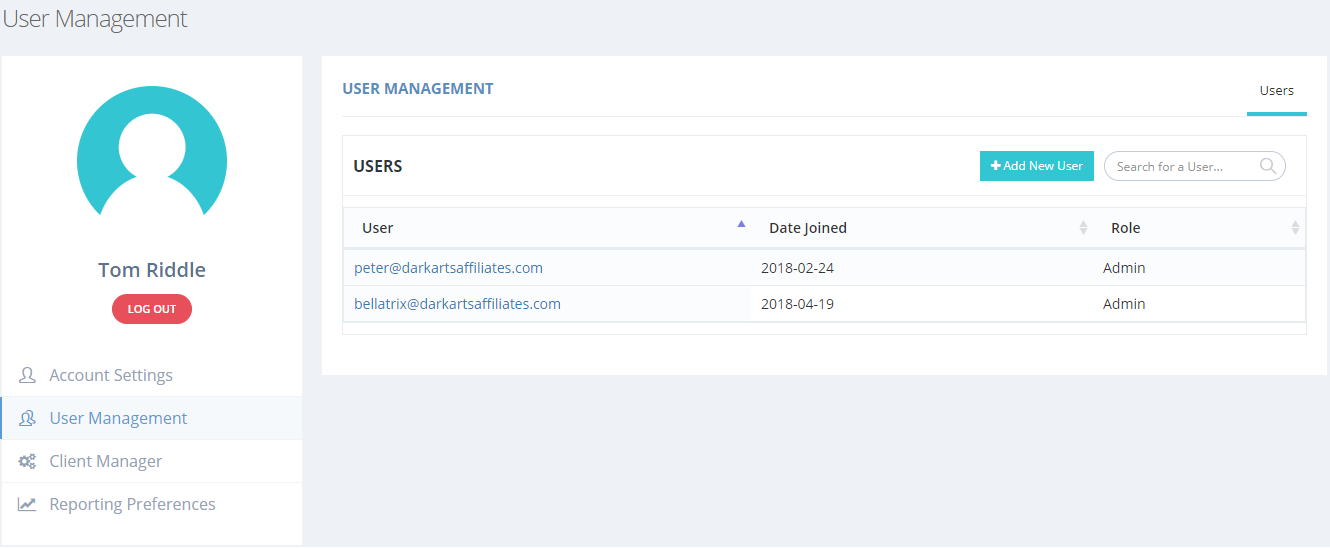 Creating a New User
Any admin can create a new user. Click the "+Add New User" button, this will open a window where you can select the type of user you want to create and edit the permissions they have.
Administrator
Administrator privileges give the user full access to all parts of the platform, this includes adding and removing new and existing users.
Standard
Standard privileges do not allow the user to access to user management or client management. Standard users will not be able to add or remove users or brands.
In order for users to see data you must select the "Brands the user can view." You can determine access down to the platform level. For example you can give a user access to a brand's ShareASale data but not to the Impact Radius data.
You are also able to enable/diable access to publisher merging and tagging and groups.
A standard user account is great for giving employees access to the accounts that they are working on rather than all accounts.
Brand
Brand access is the most restricted view, it is usually used to someone outside of your organization accesses to a limited amount of data. For example agencies may choose to give a brand access to their data.
When setting up an external user account you must specify the name of the brand and choose what can been seen by that user. You can give access to standard reporting, to just a specific dashboards, or to both.
If you give access to only one dashboard, when they log in they will be immediately taken to that dashboard. You must select which dashboards they are able to see, otherwise the account will appear empty.
Verifying an account
New users need to verify their account by clicking the link in the email sent to them within 24 hours. If a new user does not verify their account within 24 hours you can send a new verification email through the user management page, by clicking the 'resend' button next their name. This link is only for verifying the account, it will not give you access to your account on an ongoing basis.

Checking my permissions
If you are not an Admin you will need an Admin to check your permissions. This can be done in User Management by clicking on the user's email address. This will open a window with the account's details. To see which brands the user can access click 'Custom'.

Deleting a user's account
Any admin can delete a user's account by clicking on the user's name and the selecting "Delete User's Account". Note that deleting a user will not delete all associated data, including custom reports and dashboards for which they are the owner. All report, dashboards and custom metrics will continue to be 'owned' by that user even after the account is deleted. If you need to change the owner of a custom report, dashboard or custom metric, please contact Affluent support.