The Gap Analysis feature enables you to identify publishers that are performing well for some brands but not for others.
How to Run a Gap Analysis
Select the brands that you want to view from the drop down at the top of the page.
Filters can be set for each brands to narrow the search using the icon.
Click the next to any brand or publisher to remove them from the analysis.
You can set the Gap Analysis to look at data based on Revenue, Commission, Sales, Leads or Clicks.
Set the date range selector to the time range you want to view.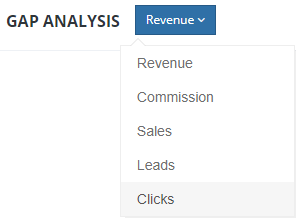 You can only select brands for the gap analysis that you have permission to view. All the brands that you have permission to see will appear in the drop down. For more on user permissions see Getting Started with User Management.
Gap Analysis and Merged Publishers
The gap analysis scans all publishers in the system. If a publisher has more than one account (on one or more platforms), it could be appear in the Gap Analysis more than once. This will affect the results, spreading out the publisher's performance over their multiple publisher accounts. In order to return the most actionable data, ensure that all publisher accounts are merged.